Doraemon The Movie Galaxy Super Express Hindi Download Dubbed, Doraemon: Nobita and the Galaxy Super-express Hindi Dubbed Download/Watch Online. Download More Doraemon Movies From Our Website.
Doraemon The Movie Galaxy Super Express Hindi Movie Info
Name : Doraemon: Nobita and the Galaxy Super-express
(Hindi Dubbed as Doraemon The Movie Galaxy Super Express)
Release Year: 1996 (Hindi Release 2016)
Quality: 720P HD
Language: Hindi
In the park where they normally meet, Suneo invites his friends to his trip to Express Train. Nobita then appears looking very worried as Doraemon has been missing for a few days. Nobita returns home to see that Doraemon is back.
Doraemon explains that he had acquired tickets for a Galactic Express Train from the 22nd century. The train's destination and traveling time is unknown. After Nobita expresses concerns about missing school, Doremon reassures him that he will board the train and come back on the same day.
The next day, Nobita tells invites his friends to the Galaxy Express. Gian and Shizuka agree except Suneo who wants them to join him instead. Though hesitant at first, he also joins them. The train has 58 carriages through 8 and is visible from outside. Each carriage has 5 rooms.
Nobita and his friends stay in Carriage no. 7. Once the train reaches its destination planet, the carriages separate. The friends disperse in different play planets and enjoy. Nobita and Doraemon enjoy shooting lessons while Gian and Suneo face misery in learning Ninja techniques.
Meanwhile, an evil force, called Yadori, is planning to take over humans together by turning the humans into parasites. A few days later, the first case of parasites is reported when the robot-dinosaurs at the planet start acting strangely. They decide to report about it to the Control Center in the Main Planet.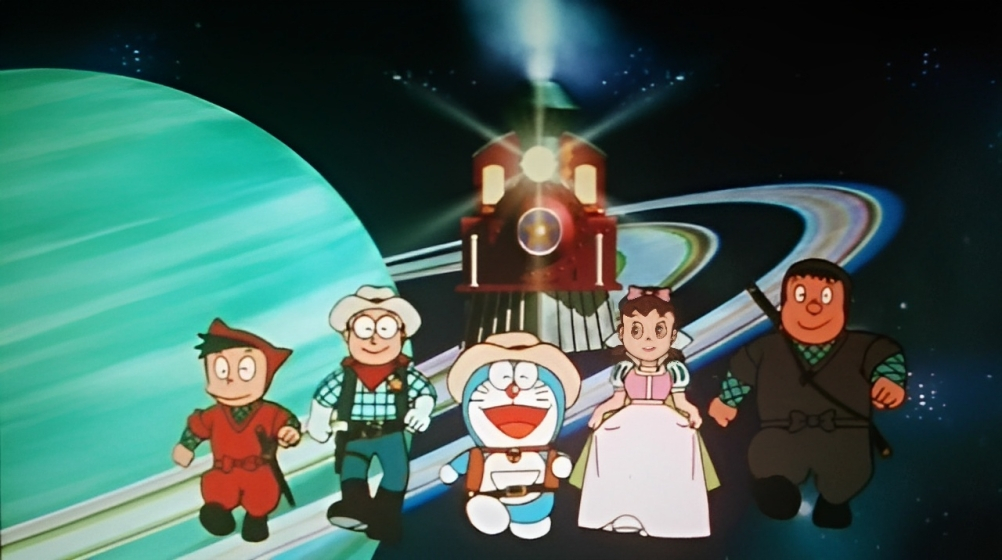 How To Download From RareToonIndia? Click Here

Join Our TELEGRAM CHANNEL For Updates and Polls